Interior lighting and TBird prep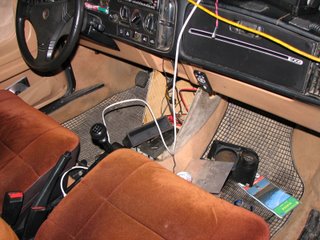 After the ham radio failed a while back, I finally pulled it out to get repaired. While I was in there, thought it was a good time to chase down the problems with interior lights. Not so fun to need a flashlight in the winter months to find anything in the car...
Limited progress was made tonight. Now the clock works and the lights don't stay on all the time. They even come on when the driver's door is opened. The passenger door switch wiring is screwed up from a previous owner's alarm installation so that will have to be chased down latert. And the trunk light still doesn't work correctly so I disconnected it. But it's better than it was before -- dome and map light now will come on when needed.
Oh -- and finally purchased a new battery. It's the correct size so shouldn't be rubbing up against the heatshield and exhaust elbow.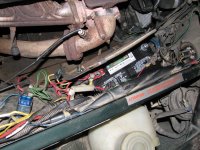 Found some more rotted wiring insulation, in the right hand harness near the door switch and fixed that (temporarily -- some day it'll all get re-wired).
Also tightened up the dash speakers and cleaned some of the dust out of cracks and crevices. Should sound a little better or as good as cheapo speakers in a poor location can sound anyhow.
Parts to fix the ham radio should arrive tomorrow, then will get Eric to help solder them in.
After that it'll be time to pack up for the
Thunderbird Rally
coming up this weekend. Hans will be running a Timewise computer borrowed from Jim for the first time as a navigator. Looks like the weather will be warmish so road conditions should be plenty sloppy (and fun!)