A clean Saab 900 Turbo pic
Many of my photos of the Saab are after it is dusty, muddy or otherwise grimy. Other folks do a better job at capturing the car in a clean state. Here's a shot that rally friend Ron Sorem took before the start of the '05 Thunderbird Rally.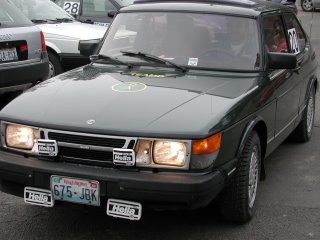 I don't love the mounting method for my aux lights -- they twist no matter what I do. Will try and fix those before Alcan.
For a 1985 Saab that saw a number of owners and not a little neglect over its life, the green paint is still in pretty good condition, which is one of the reasons I've continued to put time and effort into this beast.